Accelerating variant discovery in challenging biological samples
Accel-Amplicon Custom NGS Panels generate highly multiplexed, targeted PCR libraries that are compatible with both Illumina® and Ion Torrent™ sequencing platforms. The unique single-tube design is also compatible with most sample types, including limited or degraded samples such as FFPE and cfDNA samples.
Tailored to meet your specific needs, Accel-Amplicon Custom NGS Panels can be customized to include coverage of both clinically-relevant hotspot loci and regions of contiguous coverage, as well as Sample_ID targets spiked-in at a low percentage (2-4% of reads). This allows for somatic mutation detection using high depth of coverage and sample identification using low coverage depth of germline targets.

Benefits
Enables discovery, characterization, and screening of SNPs and small indels (< 15 bp).
Provides comprehensive coverage of critical hotspot SNVs, indels, and contiguous tiled regions in coding regions and intron-exon boundaries.
Tailors your assay at the size that works best for you — from a small panel of just 15 amplicons up to 1,500 — all in a single-tube multiplexed reaction.
Generates complete libraries in under 2 hours with a fast, easy workflow.
Delivers highly reproducible performance from only 10-25 ng input DNA, including fragmented or degraded samples.
Produces highly specific, exceptional target coverage uniformity to make your sequencing reads work for you.
Workflow
The Accel-Amplicon workflow provides a fast, single-tube approach resulting in a < 2-hour start-to-finish procedure, including hands-on time.
The single-tube workflow includes two brief incubations to generate the multiplex amplicon targets and add a unique combination of Illumina-compatible indexed adapters, creating up to 96 uniquely-indexed libraries for multiplexing on a single sequencing run.

Simplified Data Analysis
Eliminate the variant valling bottleneck
In partnership with Genialis, Swift provides basic and clinical researchers' with a streamlined data analysis solution that integrates alignment, primer trimming, QC and variant calling into one, simple pipeline.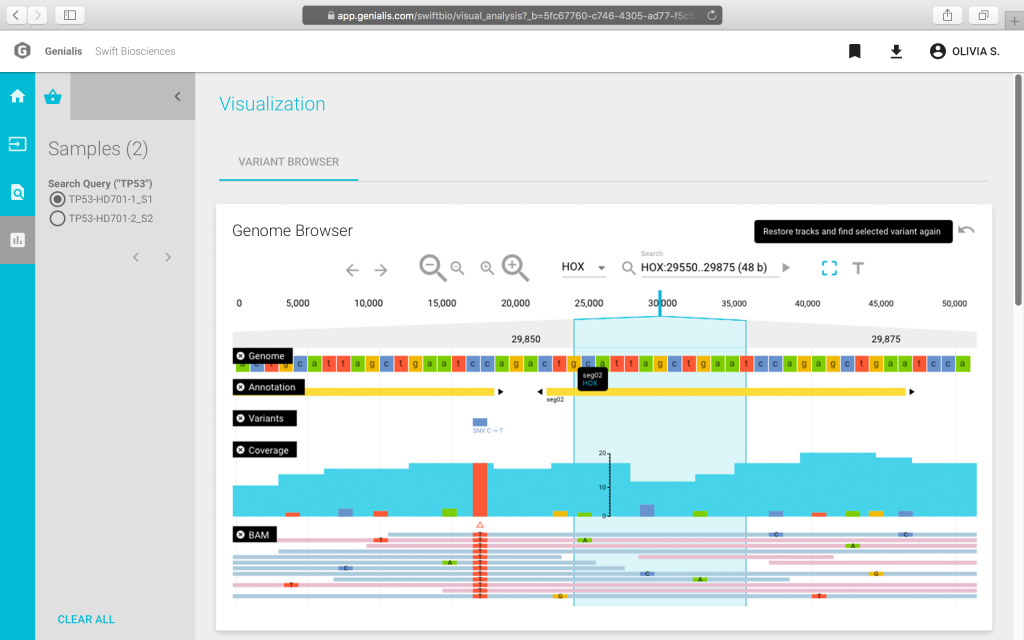 Please contact us for more details.