What is Digital PCR ?
Divide and count : single volume divided into countable-size partitions.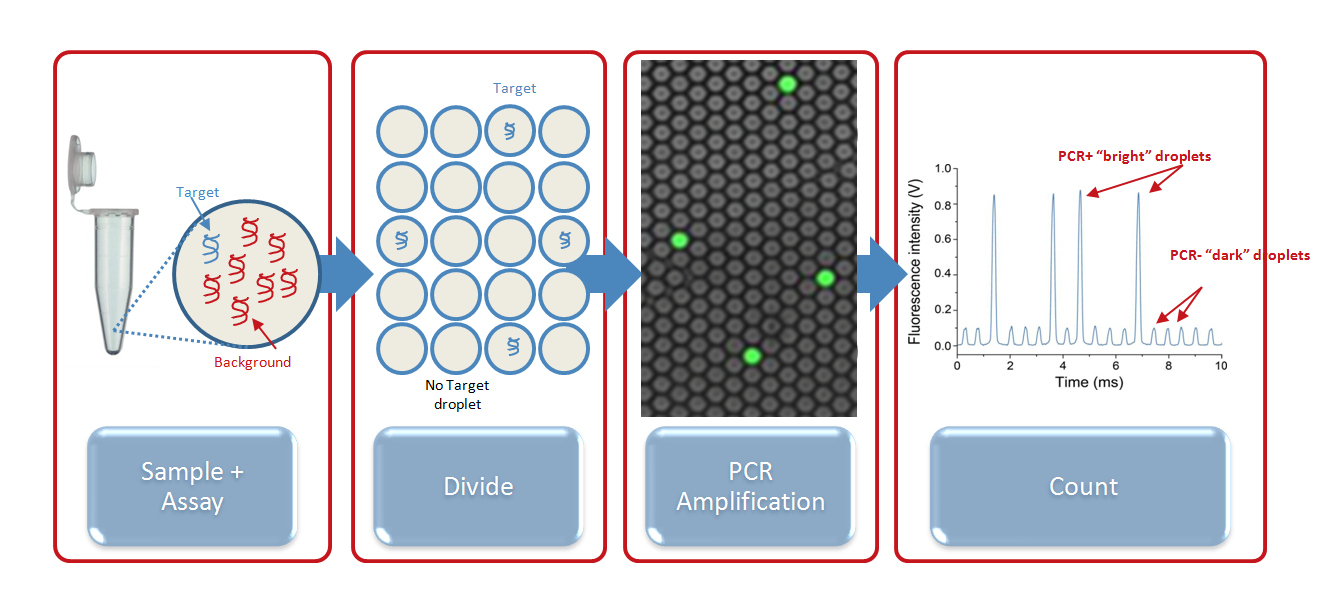 Digital counting of each molecule with an endpoint PCR assay provides sensitive determination of absolute concentration.

Millions of droplets matter
A Billion reactions. Digital answers. Experience the final frontier of PCR.
Capable of generating more than a billion reactions in a single day, the RainDrop® Digital PCR System surpasses all existing technologies and establishes a new performance standard in sensitivity, quantitation and multiplexing. Based on RainDance's proven digital droplet platform, the RainDrop System fundamentally changes the performance of molecular assays by enabling digital answers across a number of important applications including low-frequency tumor allele detection, gene expression, copy number variation, and SNP measurement.

Innovative design
A new gold standard in sensitivity is only possible through the careful consideration of every aspect of the system. The RainDrop System offers a number of innovative digital droplet-based design advantages :
Automated delivery of filtered oil from sealed on-board reservoirs eliminates any contamination risks from the environment or pipetting
Real-time closed-loop control of droplet creation ensures uniformity both within and across runs
Automated filling of PCR tubes with emulsion avoids possible losses with manual pipetting techniques
All wetted surfaces are single use, eliminating the potential for any carryover of droplets from one sample to the next that can occur with reusable fluid path approaches
Sealed amplicon containment completely eliminates catastrophic contamination issues from spills and other problems with pierced foil designs
Logical channel-to-channel workflow, integrated bar-coding and sample tracking through the RainDrop software eliminate the risk of experiment disasters caused by simple reformatting mistakes in sample handling

Robust and reliable platform
Don't risk your research experiments to first-generation designs. The RainDrop System is the third generation of RainDance's digital droplet-based PCR instrumentation and uses the fourth generation of our microfluidic chips. These innovations have a long track record of success in the lab and have been detailed by leading research institutions in publications including Analytical Chemistry, Lab on a Chip, and PNAS.

Streamlined workflow

The RainDrop System shifts the PCR paradigm from a single color per marker approach to a more scalable and precise multi-color and intensity-per-marker method. This novel approach increases sensitivity by generating between 1 million and 10 million pico-liter sized droplets per lane, which is a 500 – 10,000X improvement over existing PCR methods. Since each droplet encapsulates a single molecule, researchers can quickly determine the absolute number of droplets containing specific target DNA and compare that to the amount of droplets with normal, background wild-type DNA.

Sensitivity
To assess the lower limit of detection (LLOD) of an EGFR mutation, varying concentrations of mutant were diluted into genomic wild-type DNA. The assay delivered a linear response (R2 = 0.998) down to 1 mutant amongst 250'000 wild-type molecules, with a LLOD of 1 in more than 1,000,000 as defined by the average of the wild-type only controls plus 3X the standard deviation.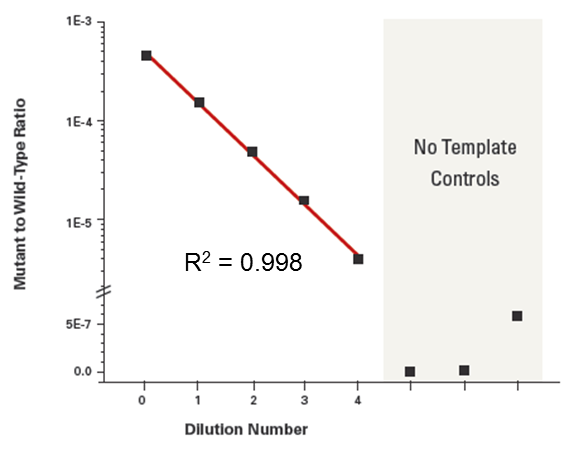 Multiplexing
By adjusting concentrations of the probes for each individual assay, 4 mutations plus wild-type were measured simultaneously with just VIC and FAM fluorophores. Multiplexing can be expanded to higher plex levels, and it enables detection, identification, and measurement of multiple possible mutations from a single DNA sample.

Droplet creation on RainDrop Source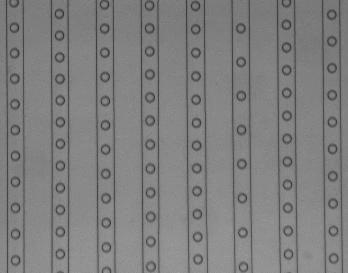 -> 80,000 PCR reactions per second – droplets are created in all 8 channels simultaneously at rates approaching 5 million per minute
-> CCD vision system provides real-time closed-loop control to ensure droplet size uniformity
-> Droplet data retained in Source log files for traceability