CellDrop Cell Counters feature unique DirectPipette™ Technology to eliminate plastic slides and cumbersome hemocytometers from routine cell counting. Featuring dual fluorescence and/or brightfield optics, variable height sample chamber, and powerful, easy-to-use analysis software, the CellDrop enables the fastest cell counts, viability assessment, and GFP transfection efficiency measurements across the widest range of cell density, cell type and application.

DirectPipette™ technology
The CellDrop Series brings the familiar Load, Measure & Wipe Clean functionality of microvolume spectrophotometers to cell counting. Traditional plastic slides or glass hemocytometers are replaced by two permanent optical sapphire surfaces. These are positioned parallel to one another by a calibration-free, high-precision mechanism, forming a chamber of precisely defined height. 10 µl of cell suspension is pipetted into the chamber, analyzed and simply wiped away with a dry laboratory wipe. The powerful live-view image allows instant verification that cleaning has been successful.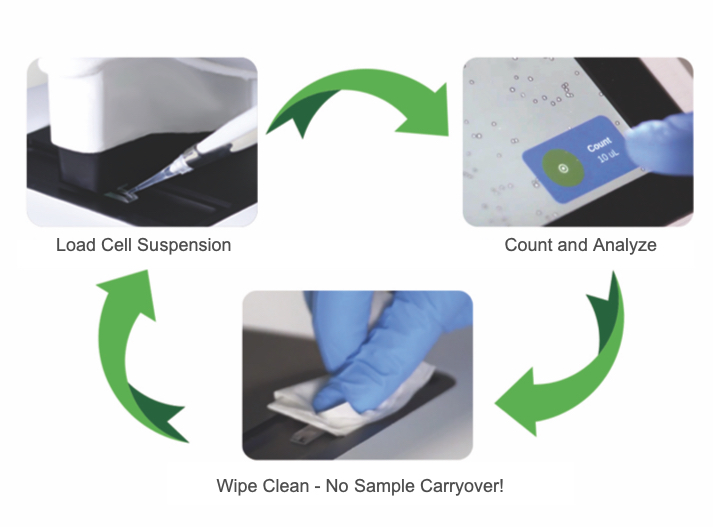 Accurate across the widest range of cell size and density
Using conventional counting methods, samples with high or low cell densities require time consuming dilution or concentration steps. The variable height chamber of the CellDrop adjusts chamber depth automatically, delivering the most accurate counts over the widest cell densities – 7 x 102 to 2.5 x 107. Chamber height can also be adjusted to accommodate almost any cell with a diameter range of 4 to 400 µm.

Easy-to-learn, powerful-to-use
Designed by life scientists, the CellDrop EasyApps® Software exceeds the functionality of high cost cell counters while delivering the ease of use of simpler systems. EasyApps combines with a high definition, 7″ touchscreen interface to give error-free operation with sample loading to data exporting in seconds. Pre-installed with a range of common applications for one-touch analysis of assays such as Brightfield, Trypan blue, AO/PI, GFP and Yeast and the ability to create custom methods makes the CellDrop a flexible workhorse for the busy, multi-user lab.

Hazardous samples ?
The small footprint and onboard processing of CellDrop allow it to fit inside most flow hoods where required. For applications that require the cells to be contained when reading, all instruments also have the ability to read samples in common disposable plastic slides and reusable slides without the need for additional adaptors.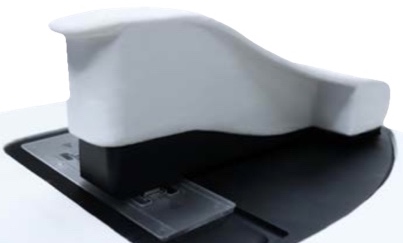 Models
Available in Dual Fluorescence and Brightfield (CellDrop FL) or Brightfield only (CellDrop BF) models with many features :
Intuitive app icons for quick recognition
7″ HD Touchscreen, fluid pinch and zoom, glove compatible touch interface
Live HD preview of cell samples
Real-time cell size gating on main results screen
High definition cell outlining
Password protected user accounts for project and data management
Thousands of measurements stored onboard instrument (60 GB SSD is standard)

Pay-As-You-Go
Get all the convenience of consumable-free cell counting with a lower initial investment. The PAYG option is ideal for labs with smaller capital budgets or lower throughput. Simply purchase a bundle of Count Codes according to your lab needs and EasyApps will use one for each sample measured.
Apply codes to a single account or share amongst users. With the robust admin options available in EasyApps® you are in control and if your needs change, simply upgrade to the Unlimited (UNLTD) version of the CellDrop product.