DS-C cuvette mode
Enables up to 10 mm pathlength measurements using standard quartz or disposable cuvettes extending the UV-Vis lower detectible limit. The built-in cuvette heater controls temperatures for Kinetics studies. These added features provide a full range of UV-Vis absorbance quantitation in a single instrument.


Easy to learn. Fast to use.
DS-C instruments feature the most powerful and intuitive software of its type. Designed by life scientists, pre-installed EasyApps® and a breakthrough Android™ touchscreen interface delivers error-free operation and sample to data in under 4 seconds. Every instrument is ready to measure right out of the box – no PC set-up or software installation.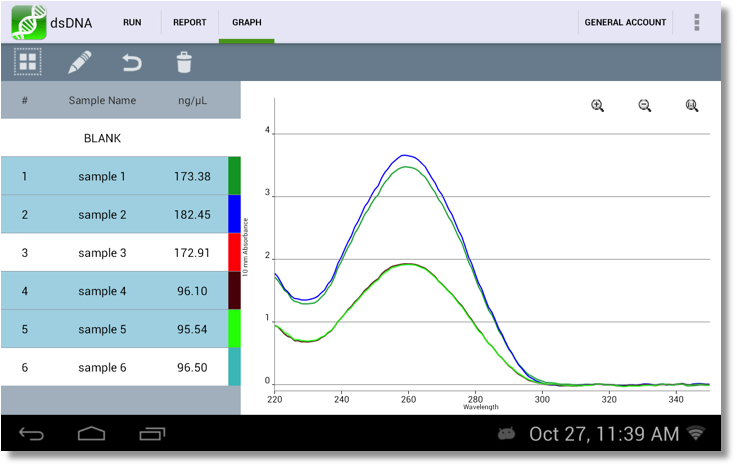 High sensitivity

Measure samples with concentrations as low as 0.04 ng/ul of purified dsDNA or 0.002 mg/ml purified BSA.

Kinetics
Create simple kinetics methods measuring two absorbance wavelengths over a user-defined measurement frequency and period. EasyApps® streamlines the process to create and save custom methods and enables cuvette temperature control between 37°C to 45°C.

Cell culture OD 600
The high-particulate nature of bacterial cell cultures benefit from a longer measurement pathlength. The particulates in these samples scatter light, and a 10 mm pathlength provides a longer cross-section of the sample for the spectrophotometer's light beam to travel through. This ensures the highest degree of accuracy and reproducibility when measuring these types of samples.

Connect to your results
Built-in Wi-Fi, Ethernet and USB allows easy export of data you want in the format you need. Email a .csv or color .jpg of your results, save data to LIMS or network drives, print results or graphs to network and label printers and more !


Upgrade to fluorescence
To take advantage of enhanced sensitivity and specificity, the DS-C can be upgraded to add fluorescence capability with the addition of the FX module allowing any DS-C to also function as a highly sensitive fluorometer. Alternatively, the DS-11 FX Series integrates both microvolume, cuvette absorbance and fluorescence into one compact instrument.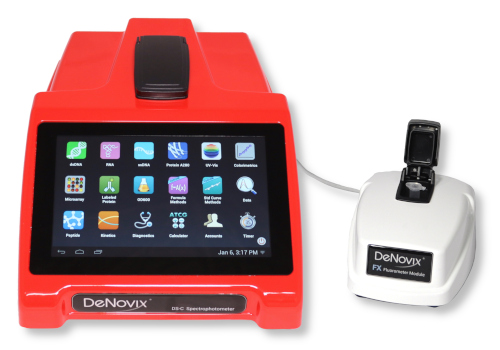 Color choices
The DS-C is available in four color choices :