The DeNovix RNA Assay enables accurate detection of purified RNA samples with a standard detection range from 5 to 1,000 ng total mass in 200 μl volumes. This equates to sample concentrations of 0.5 ng/μl to 1,000 ng/μl when using 10 μl sample volumes in a 200 μl total assay volume. Therefore DeNovix Assays have a wider dynamic range than the Qubit® Broad Range and High Sensitivity assays combined.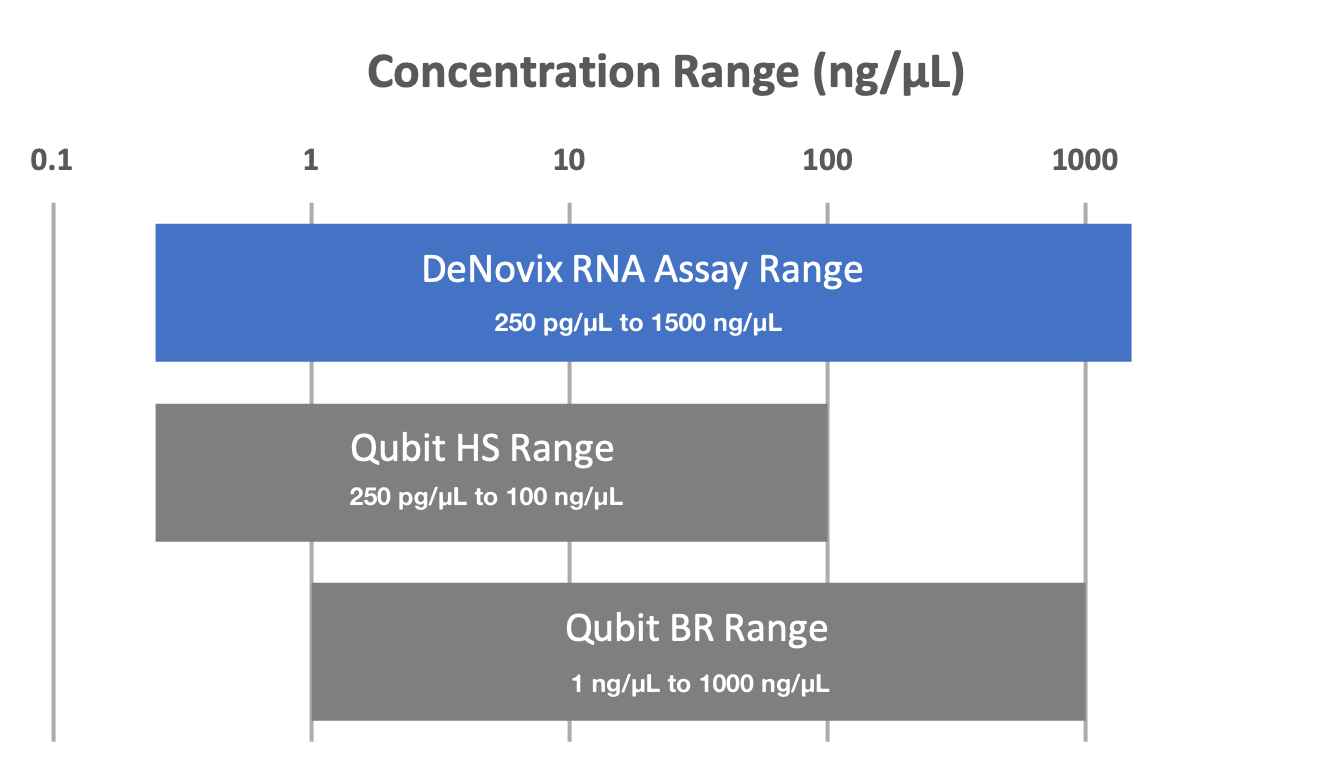 Extended Range
The upper detection limit can be extended to 1,500 ng/μl by adding 1 μl of a 1,500 ng/μl sample to 199 μl of working reagent (1,500 ng total mass) and the lower detection limit can be extended to 0.25 ng/μl using 20 μl in 180 μl (0.5 ng total mass).

Assay Considerations
Mammalian cell RNA is provided as the reference standard. It may be preferable to use an alternative RNA standard more similar (i.e similar size, linear vs. non-linear i.e. tRNA and rRNA) to the unknown samples of interest. For bacterial RNA, consider using a species-specific standard as the strand construction varies widely depending on the species.
Although many instruments including DeNovix DS-11 fluorometers offer the option to use previously saved values, it is recommended that a new standard curve be generated at the time of the assay for optimal results.

Performance Results
The figures below shows that the DeNovix RNA Assay enables measurement of RNA through a range of 0.5 ng (20 µl of 0.25 ng/μl) to 1,500 ng (1 µl of 1,500 ng/µl) by varying mass and volume of samples. The assay performance is linear over the range analyzed with an exceptional R2 value :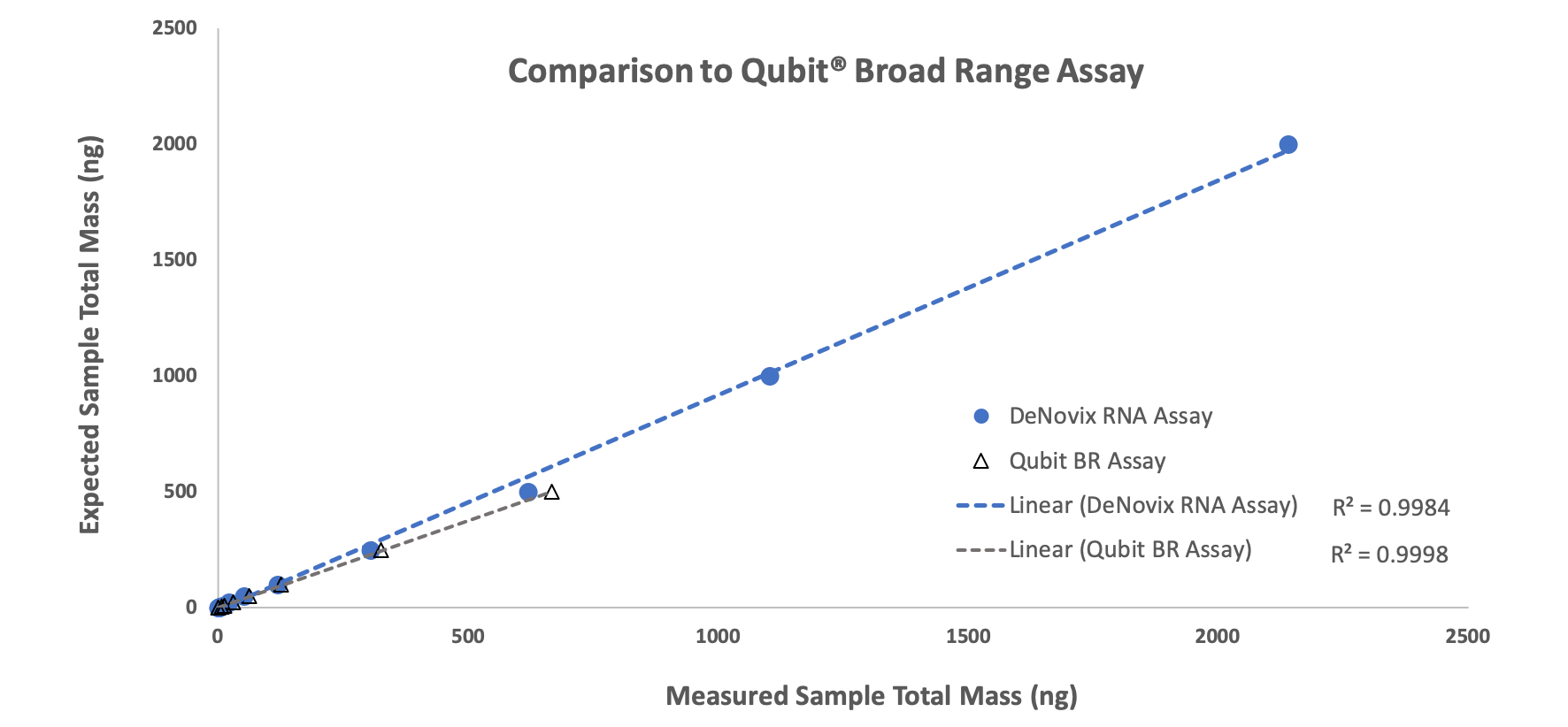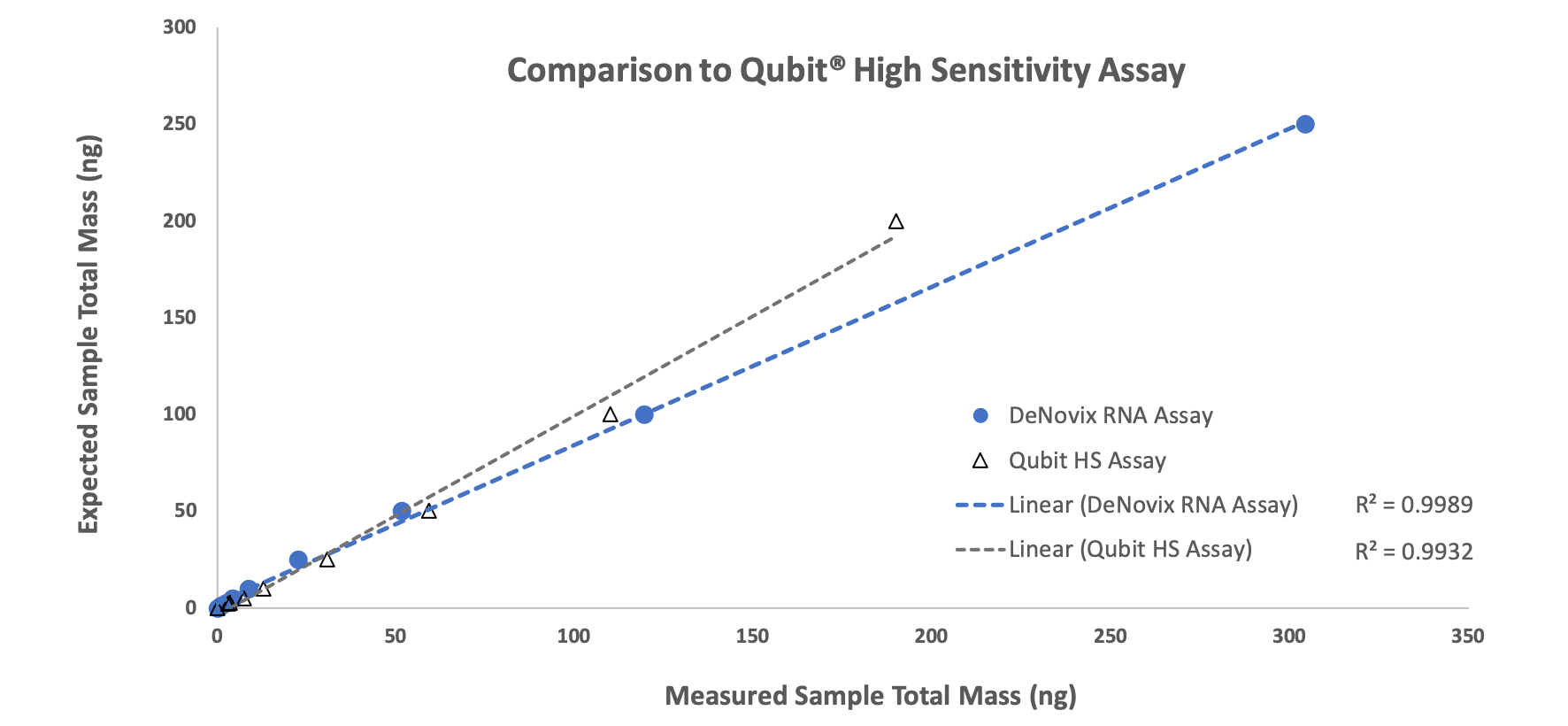 For Research Use Only
Qubit
®
is a registered trademark of Thermo Fisher Scientific and its subsidiaries.